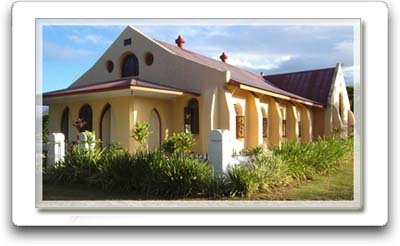 Mission Statement
For more than one hundred and fifty six years, Malua Theological College has provided training for the ministry of the Congregational Christian Church in Samoa. Throughout these years, the College adapted and developed itself to meet the many changes in the life of Church and the Society it serves. However, it was recognised from the outset that the College would be required to develop and adapt to change in a rapidly changing world.
Society's view and definition of reality have changed and will continue to change as social expectations evolve and new social issues emerge. Traditional values keep on changing as the theoretical and empirical aspects of culture change. In the academic arena, practically all intellectual disciplines, including Theology, are constantly developing their methodological assumptions and methods of interpretation.
It is important that the College continues to develop and adapt itself to these changes as they affect the ministry and the life of the Church. A recent change of importance is the inauguration in 1997 of a degree programme. That change involves a significant development extension of the role of the College. In addition to and complementing the training of ministers for the Church's congregations (the College's traditional role), the College now also provides an advanced academic programme offering the degrees of Bachelor of Divinity and Bachelor of Theology, in addition to the Diploma of Theology.
Far from being mutually exclusive, these two features of the College's role are not only inter-related but are in fact intended to be mutually reinforcing. Thus, since 1997 these have been the double foci of the role of the College. While this new feature of its role does not entail a radical departure from the primary purpose for which the College was established, it is a clear indication that the College is developing and adapting its institutional objectives as the need to do so arise. It also underlines the role of the College as an academic institution. In keeping with this two-fold role, courses at the College, while aiming for an academic standard of excellence will continue to have a practical orientation, and will emphasise aspects that are most relevant to the ministry of the church.
The aim is to provide quality theological education, and to equip student with knowledge and skills necessary for an effective ministry in the Church, a ministry undertaken of course within the constraints of political, economic and cultural structures and inevitably affected by the changes occurring thereto.
The College also aims at a national and international role by fostering and developing close links with other tertiary institutions, by means of staff/student interchanges sharing standards of excellence in spheres of specialisation.
The College is committed to the participation of its faculty members and students in developing and pursuing its objectives, as well as to the principles of equity and equal opportunity in theological education.
For more information please visit
www.malua.edu.ws